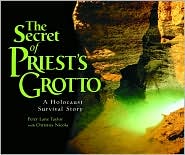 B

etween writing my seventh novel, editing my third, and trying to make myself helpful with those of a handful of friends, I haven't had time for any demanding reading commitments this summer- but I can never pass up a good nonfiction picture-book whenever I come across one in the course of my rambling researches.

Be it known that I shall rant on the state of our local library system in another post.

Be it known that it meets only the most primitive of requirements to deserving the appellation of Library, viz., it contains books beneath a roof.

Be it known that it might not even be a library after all, since it doesn't really have any books and warehouse-style skylights aren't quite the same as roofs.

Anyway, I did find a fascinating book last week: The Secret of Priest's Grotto: A Holocaust Survival Story, by Peter Lane Taylor with Christos Nicola. It came up on a search in the library system for nonfiction books on caving (one of many things I love reading about) and I ran to hunt it down before someone else got to it first.

It begins with telling how the authors, two expert American cavers, were exploring some cave systems in the Ukrainian countryside. On later hearing locals allege that several Jewish families had hidden there during the holocaust, they became interested and attempted to investigate- but all their searches for more information deadended, until they were contacted by a survivor who shared the harrowing and almost incredible story of courage and raw determination.

The families had indeed lived in the caves, concealed in a subterranean world, from October 12, 1942 to April 12, 1944. Assisted only by neighbors who left them food, they lived day to day in complete darkness, under threat not only from the Nazis who frequently searched and blocked the sinkholes and known entrances, but from the dangers of the caves themselves.

After meeting with the survivors of the families, the authors returned to the caves and found the chambers where they had lived and the tortuous passages they had penetrated. The book is full of photographs of the simple artifacts, the caves and their surrounding regions, and haunting black-and-white pictures of the families themselves.

The darkness of their experience is almost unfathomable. Perhaps the saddest part to me was one survivor who had been a little girl at the time, and who, in her unbroken year underground, had forgotten the sun.

Read this, if you can find a copy- it is sobering and inspiring. History books written by those who experienced and discovered it have something no textbook can ever teach. Besides what it said in itself, it heartened me to know that books like this are still written and published (Kar-Ben Publishing, 2007) and furthermore that such compelling stories can be about the strength of families.